CONSTRUCTION PAGE -- SARDINE CARRIER 53 DEADRISE MOTORSAILER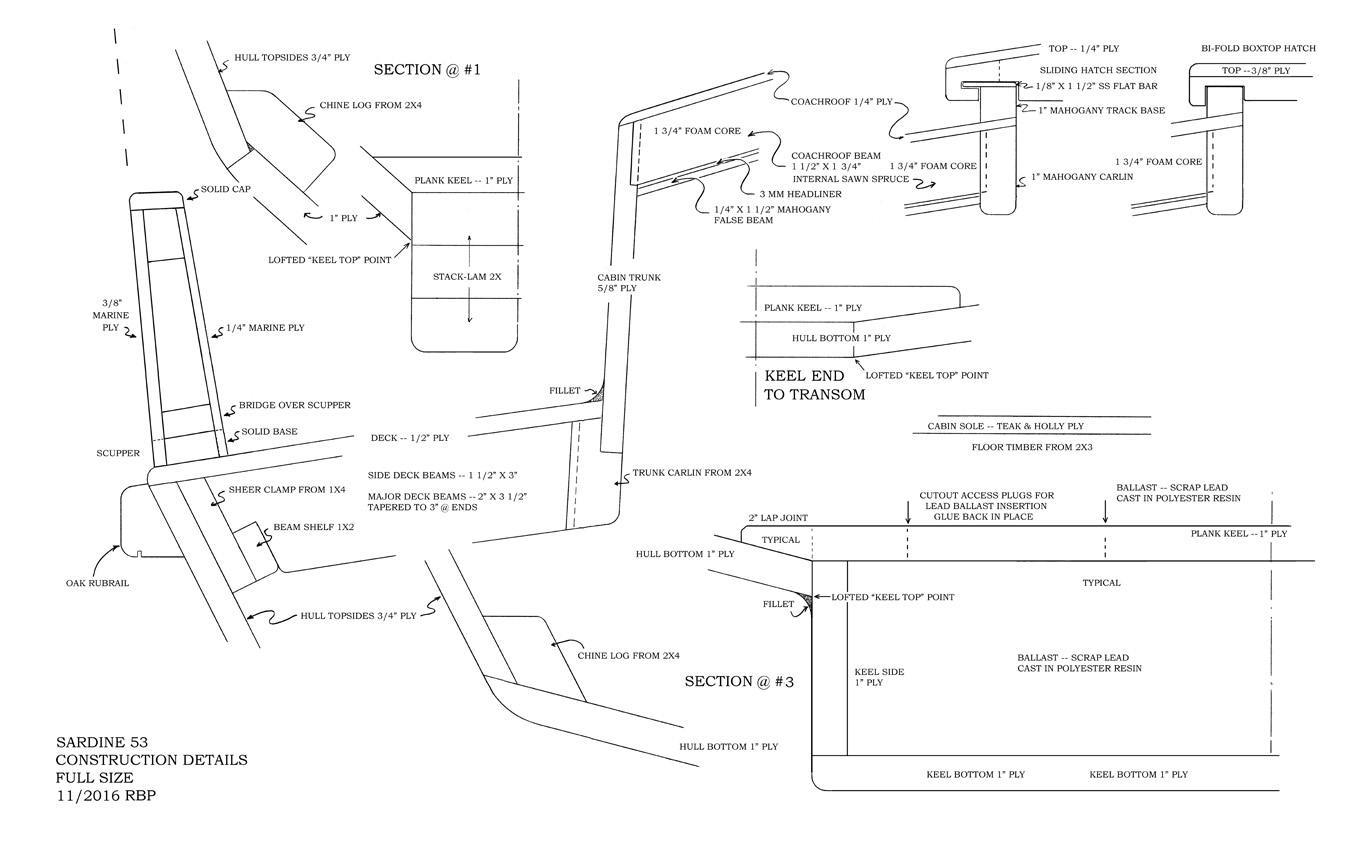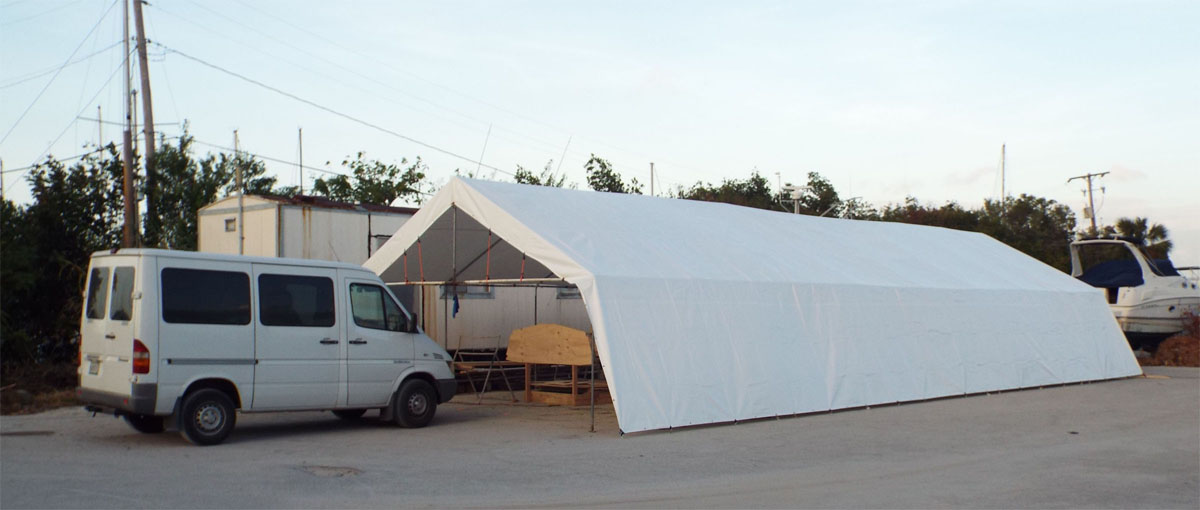 Parker Marine at Riverside Marina, in Ft. Pierce, FL--The big tent, December 2016
The strongback bolted to the asphalt, with diagonal braces and 2x4 stanchions for mounting bulkheads The bulkheads, lofted from the table of offsets, erected on the strongback--note 2x4 stiffeners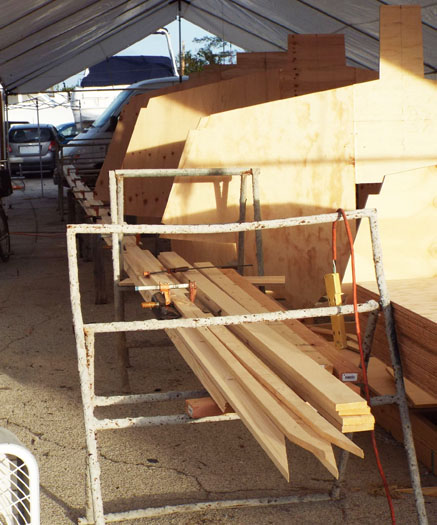 Longitudinals: sheer clamps, beam shelves and chine logs scarfed full-length Longitudinals in place, with the box keel started using 1" marine plywood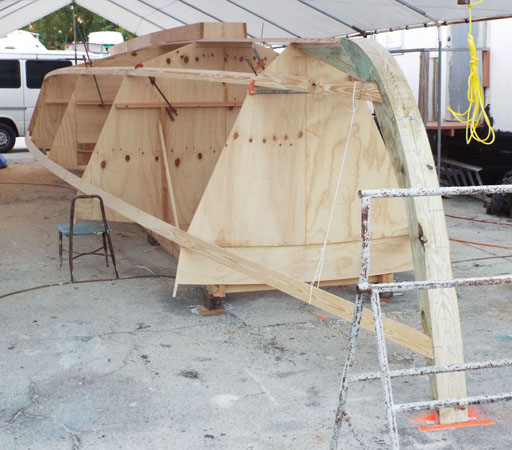 The apron/forefoot/knee assembly from 6x6 Wolmanized pine In place on the frame--beam shelves, sheer clamps and chine logs are installed--box keel started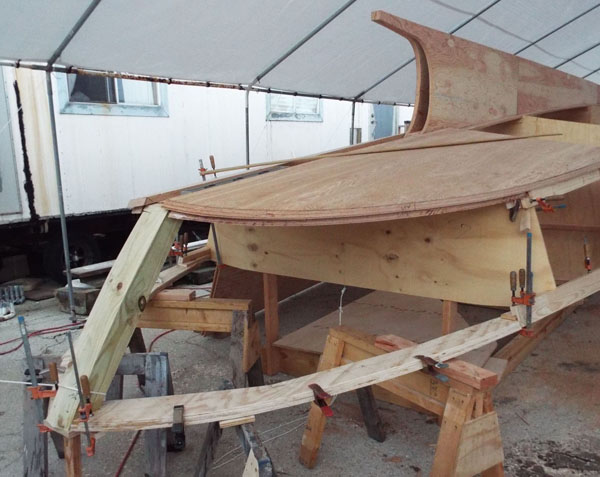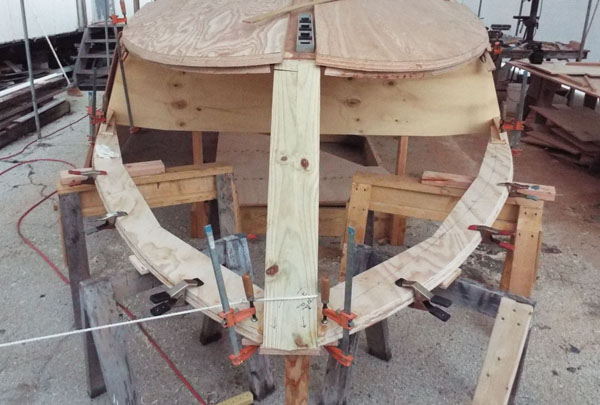 Forming the "flat-frame" structural members of the duck tail stern The rope leading left is holding the 6x6 stern post plumb while the epoxy cures
The duck tail stern planked from two layers of 3/8" marine plywood, scarfed into the 3/4" plywood topsides planking. Bottom planking is 1" marine plywood.
Planking the hollow box keel--filling in the propeller aperture (left); preparing to plank the bottom (right)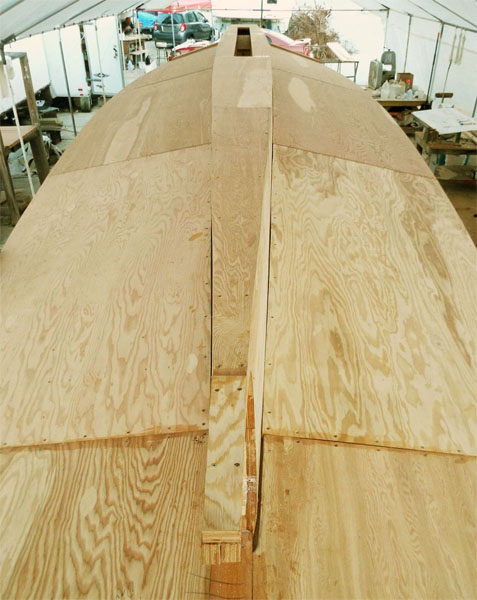 The box keel planked Topsides planking finished; bottom planking approaching the bow--due to twist, the remaining bottom planking consists of two laminates of 1/2" plywood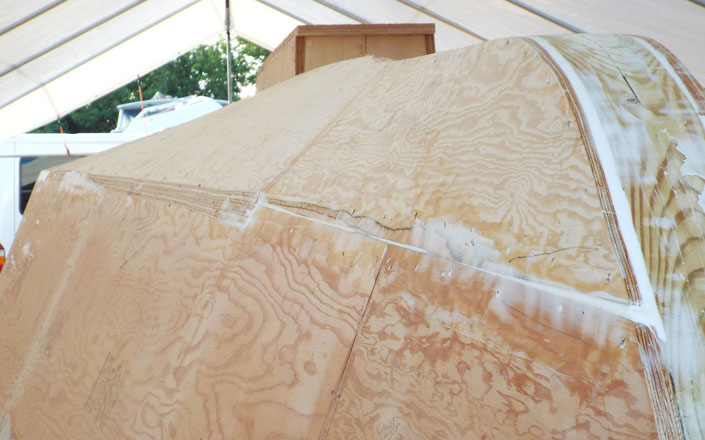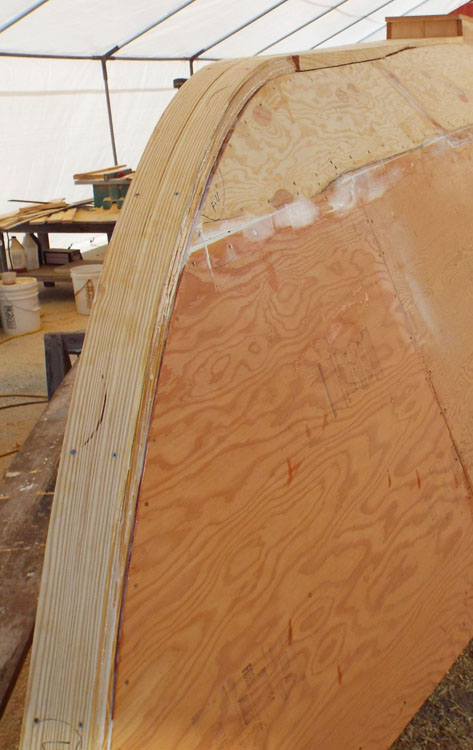 Planking finished; note the transition from overlap to butt joint along the chine Starting the outer stem laminations using 3/8" x 5 1/2" strips of yellow pine Finishing the outer stem--the bow structure is over 10" thick--very strong!
The finished hull, ready for Xynole-polyester fabric and epoxy; note the step scarf of outer stem to the solid yellow pine gripe keel; note taped and faired butt joints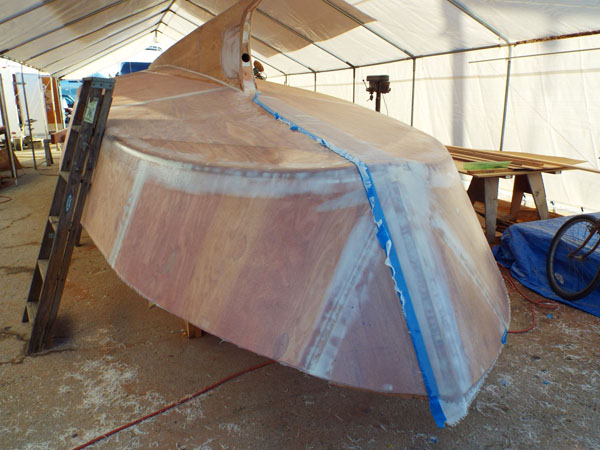 Xynole/epoxy covering the hull--the starboard side is finished, and the port side has just been wet out Layers overlap the keel and stem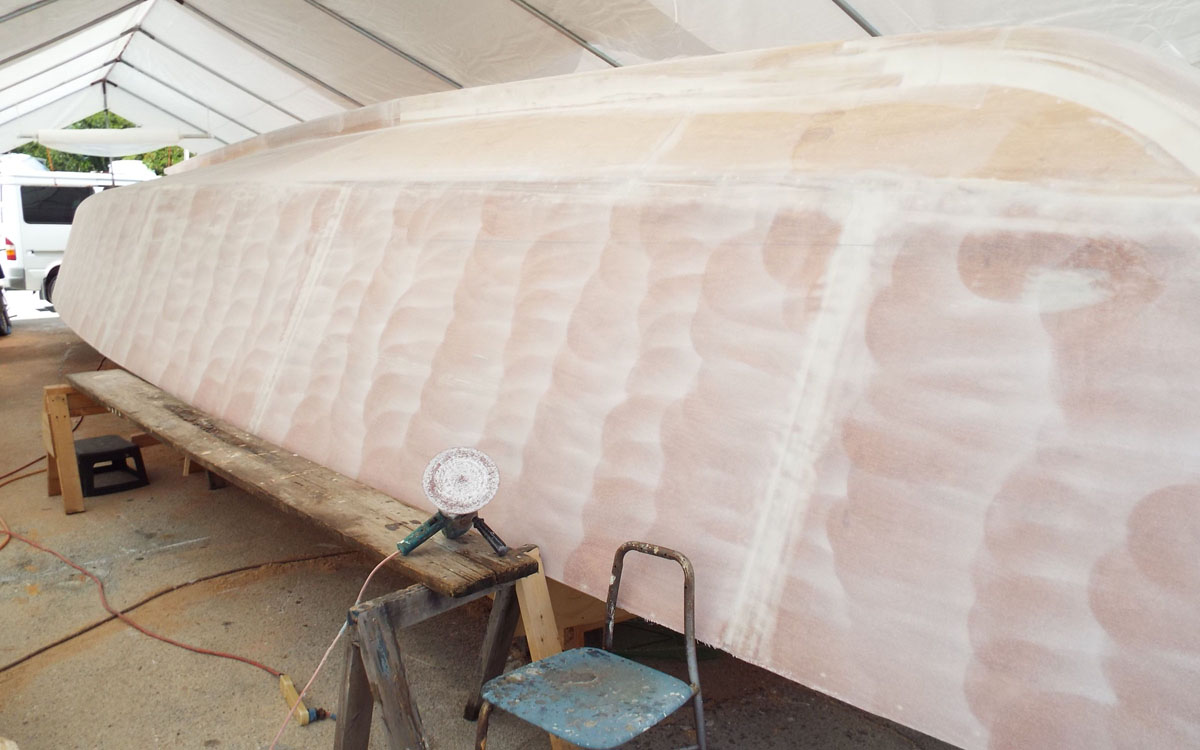 The first layer of Xynole/epoxy is finished, including two layers over the keel and stem, and the hull has been sanded to #60 grit using the low-speed Makita body grinder with thick 8" soft pad
After cleaning the sanded hull, a second layer of Xynole/epoxy is laid below the boot top--eight layers are laid over the stem and keel
The sanded hull has been primed with high-build sandable epoxy primers (two coats), and turning wheels are built in place
The very strong lifting eye is located near the center of the hull Bill Smith is setting up the gantry's chain falls
Starting the turn--we had to beef up the turning wheels in situ! Half way--the next part is tricky!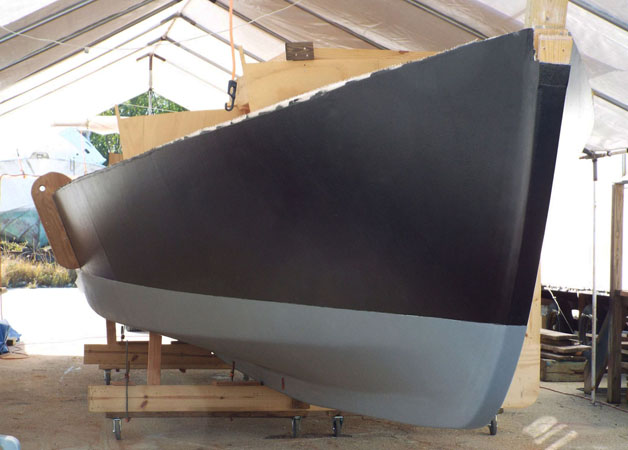 Almost! We used both chainfalls to control the drop--working at their upper limits! Right-side-up at last--back in the tent
After removing strongback components and cleaning up the interior, I saturated it with penetrating epoxy and began installing deck structure A cabin trunk carlin with mortises for side deck beams glued and epoxy sealed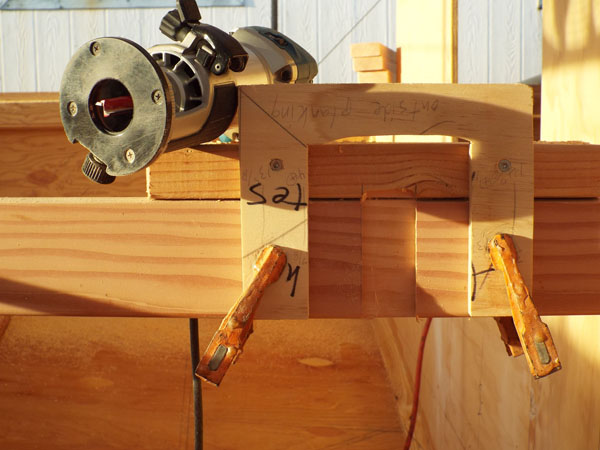 Using a router template for beam- and hatch carlin-end mortises Douglas fir side deck beams glued and sealed in place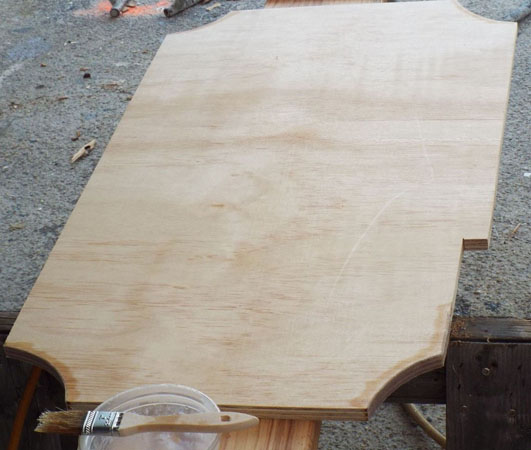 A fuel tank baffle being Xynole/epoxy covered, starting with the corners The port side fuel tank into which the baffle will be placed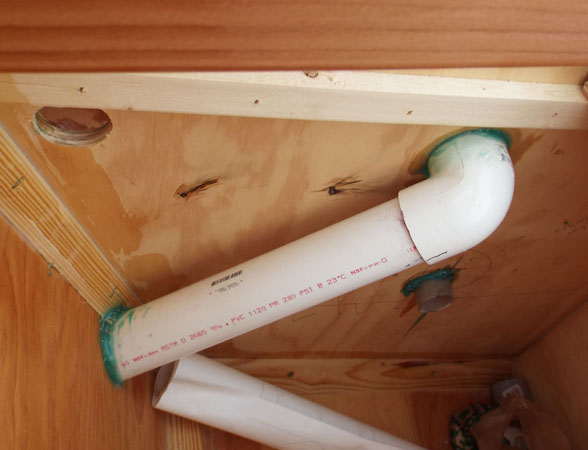 Cockpit well deck scupper--from outside (left) and inside (right); the hole (upper left) is for electrical conduit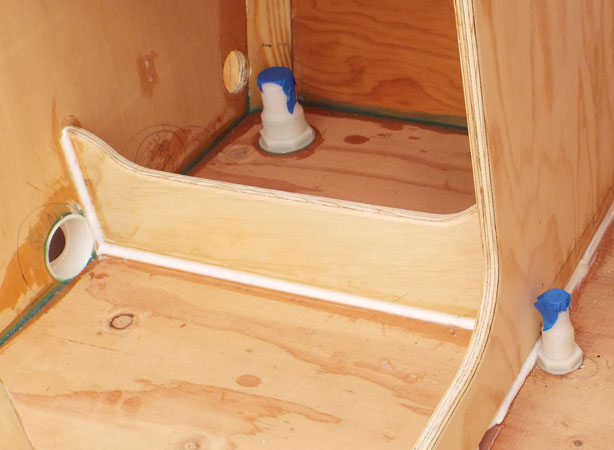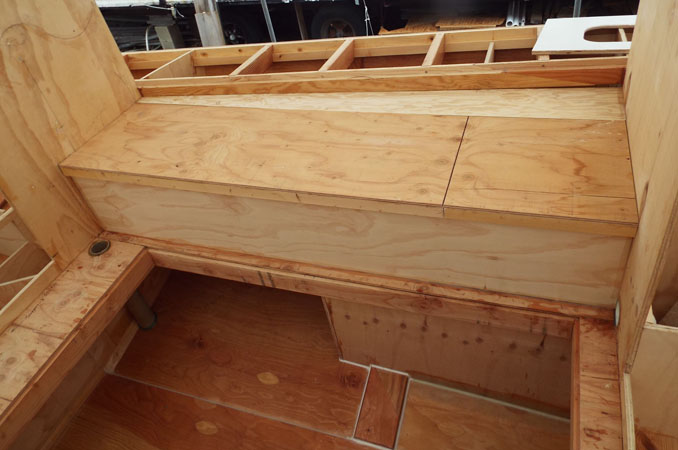 Cockpit well deck--scupper (left), fuel fill (top) & fuel tank vent (right) Cockpit showing 3" fiberglass scupper (left), and seat/locker over port fuel tank
Starboard-side water tank with baffles, Xynole/epoxy covered and painted with epoxy potable-water tank coating Settees in the main saloon built over the water tanks--centerboard trunk between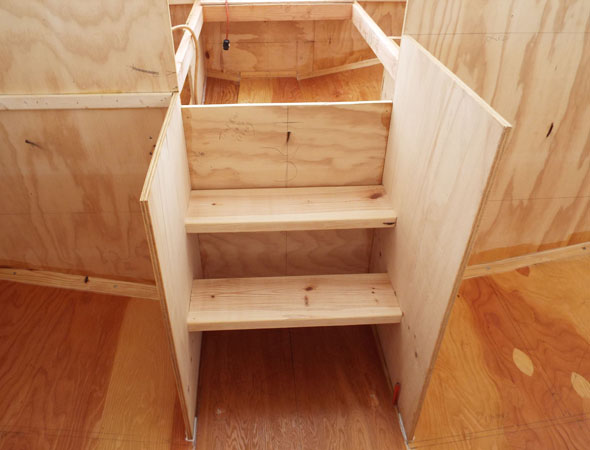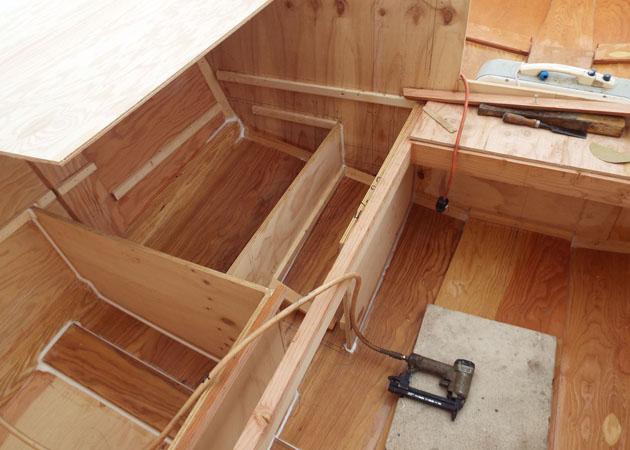 The main companionway steps from the cockpit The cockpit--holding tank and shower well (upper left); starboard fuel tank (lower left); engine compartment (right)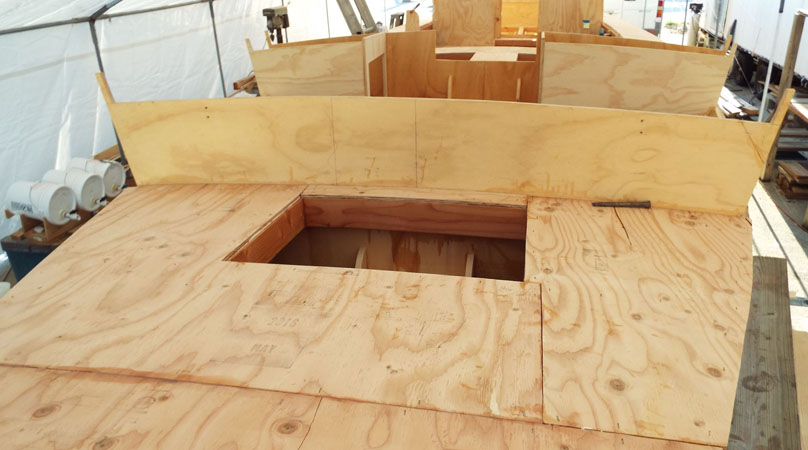 The fore deck and forepeak hatch opening Fore peak (chain & rode locker) and access ladder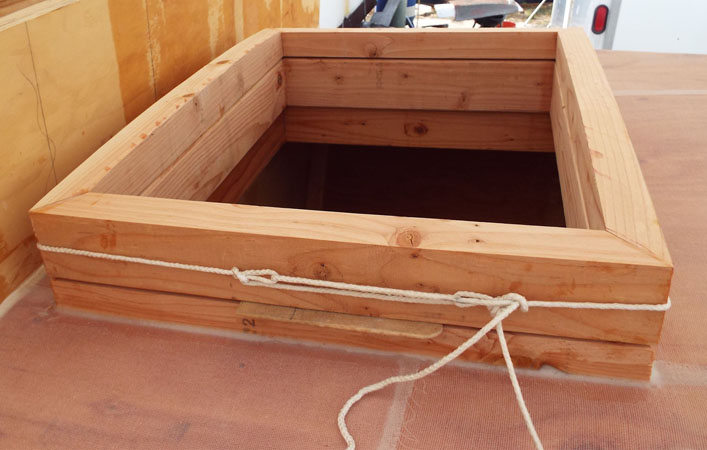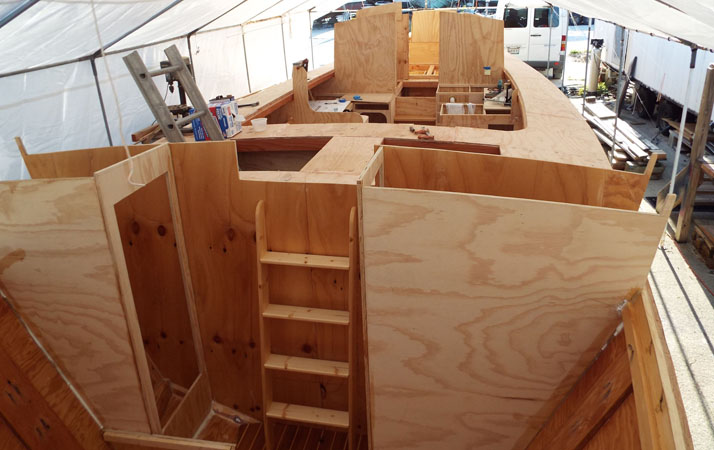 The forepeak hatch coamings and hatch frame glued in place The foc's'le ladder and cabinets roughed in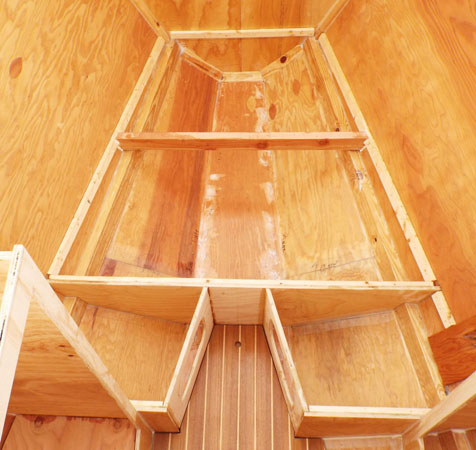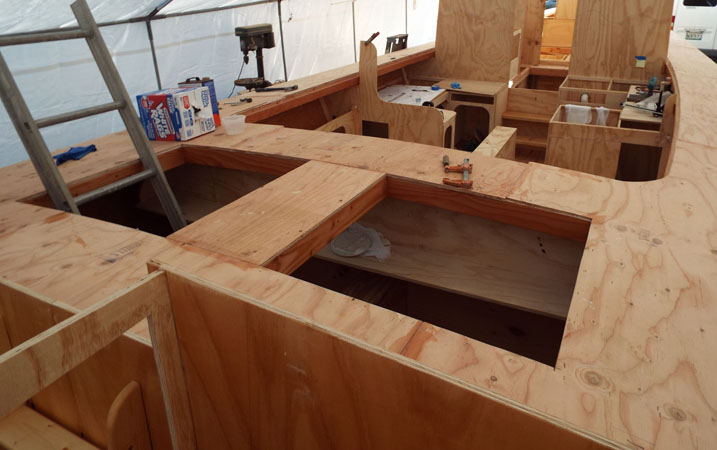 The foc's'le V-berth framed with removable cabin sole The cargo hold hatch openings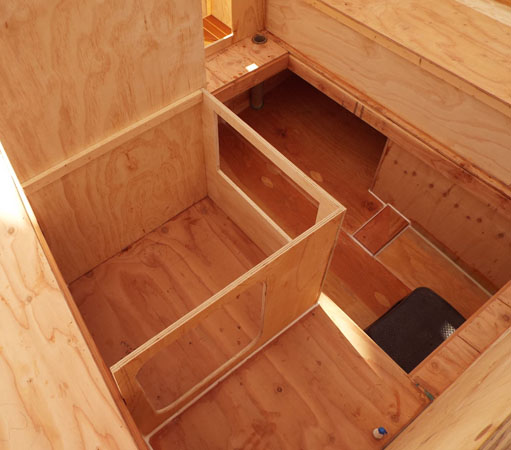 The cockpit/pilothouse: starboard helm seat/locker (left); engine compartment and port seat locker (right) Forward port seat locker open showing drain channels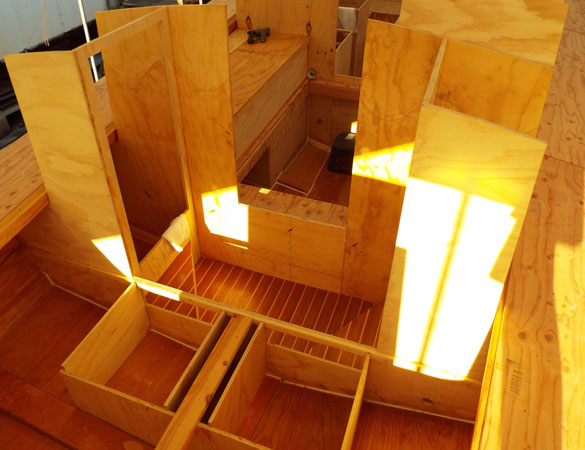 The aft sleeping cabin showing hanging lockers, drawer boxes and removable cabin sole The aft cockpit showing bench seat/locker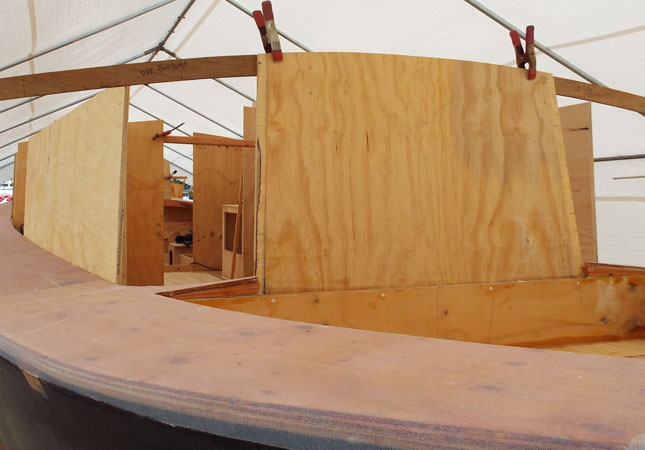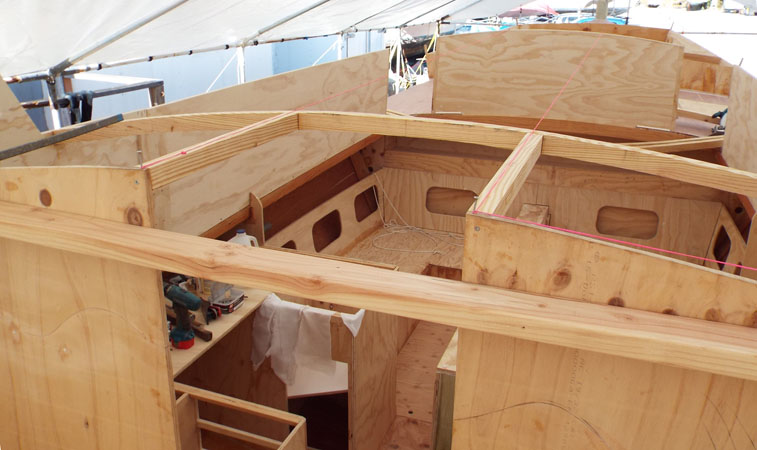 Using the coachroof beam template to cut the tops of cabin ends; decks covered with Xynole/epoxy Starting the coachroof frame for the main saloon (note 2x4 stiffener)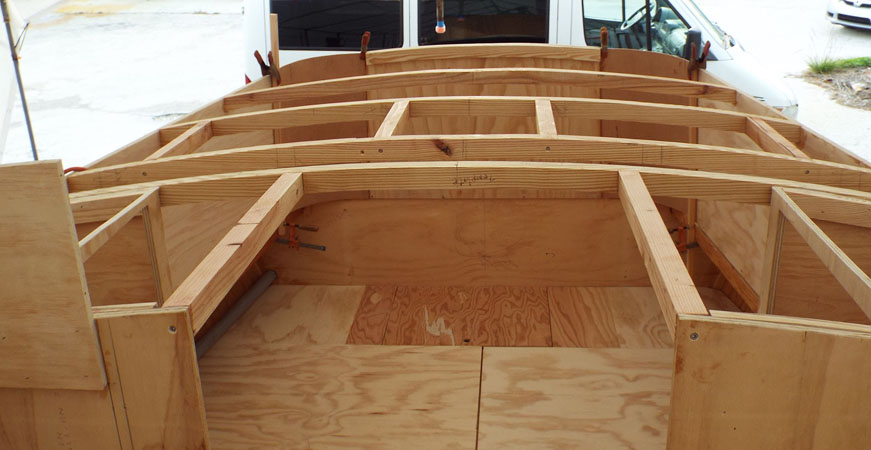 A first laminate for a cabin corner using 3mm Meranti plywood The aft cabin coachroof frame, with rounded corners aft
The main saloon coachroof in frame--the 2x4s on top hold the beams in alignment while the headliner is installed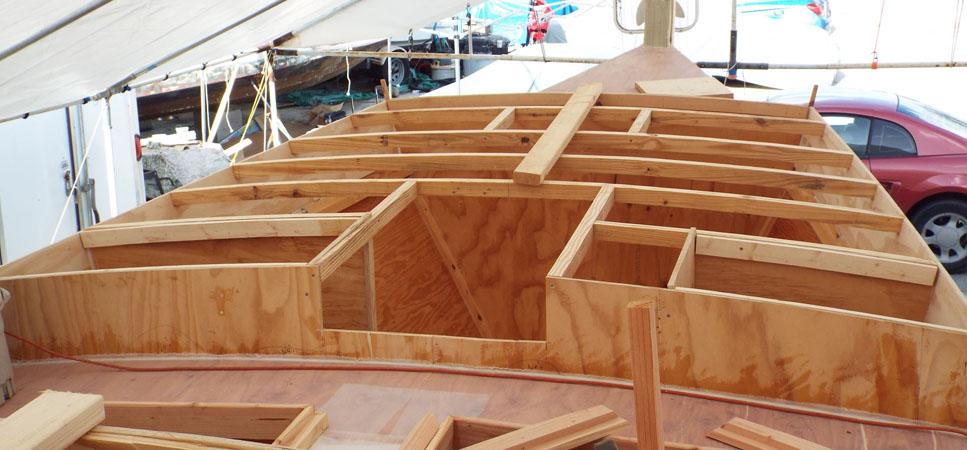 The raised fore deck over the foc's'le--beams here are 2" high (coachroof beams are 1 3/4" high), and crown is the same as for the decks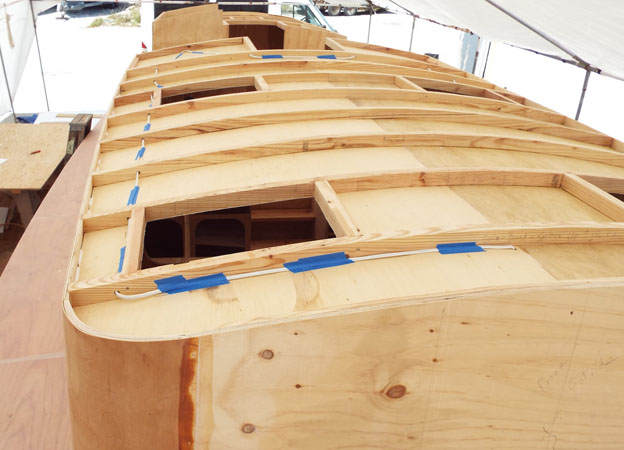 A cabin trunk corner laminated from six layers of Meranti plywood Headliner installed for the main saloon--pre-wired for overhead lights
The cockpit/pilothouse showing the port side seat/locker and engine hatch; coamings are doubled in thickness The Cockpit helm seat on the starboard side; propane bottles under outboard; tool box inboard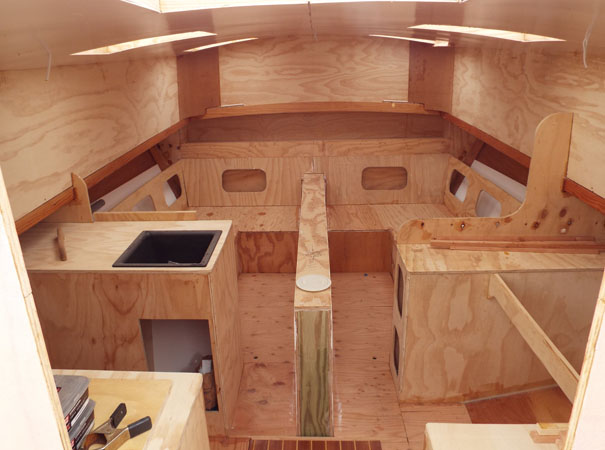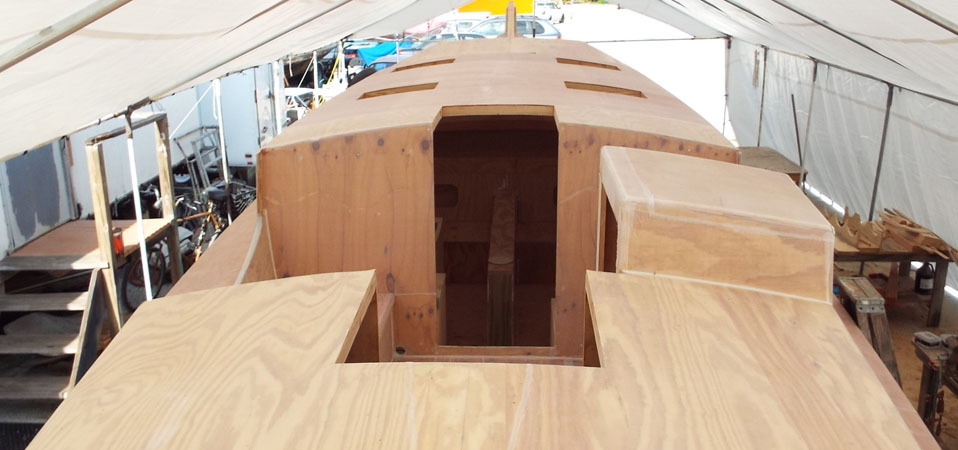 The main saloon with pre-painted headliner installed--Galley to port, office to starboard, settees forward View forward from the aft cabin coachroof--the outside head/shower compartment is to starboard--all Xynole/epoxy covered
Early May, 2017 -- The structurally complete boat is shrink-wrapped for the brutal south Florida summer; labor time was 24 1/2 weeks, and materials costs were just under $16,000