Please see our 14' Sea Bright Skiff JERSEY GIRL for sale below, for sale for $7,500 sail away (new price)
Please see our restored antique two-person FOLBOT kayak below, for sale for $2,500 (new price)

NOTE: These vessels may be purchased from our website using PayPal--email us to find out how! info@parker-marine.com

IBIS

45' LOD 2010 REUEL PARKER SHARPIE SCHOONER (Maxi-Trailerable)



IBIS

is the prototype MAXI-TRAILERABLE cruising sharpie schooner. Construction is very strong, and sail trials have been made in the Bahamas. IBIS felt safe and comfortable during four Gulf Stream crossings as well as several other open-ocean passages. She navigated the remote Bights of Andros twice in 2010, and she ran Abaco Rage twice in 2011; both using inside passages no deep-draft vessel could even

dream

about! I sailed IBIS to the Bahamas again in 2012, and found her to be the ideal boat for gunkholing among the islands, sounds and creeks of the Bahamas. She exceeded my hopes and expectations, and proved to me beyond a doubt that properly designed and built sharpies can be seaworthy and seakindly. IBIS is presently in the Florida Keys, sailing with her new owner!



IBIS

was sold in late dec, 2013. We can have a sister built by one of our approved builders, if this is your dream boat!

If you absolutely must have IBIS, try contacting Glenn Shrouder at heartsdesire1925@aol.com


IBIS is 51' 4" LOA, 10' Beam, 2' 6" Draft (7' 8" Board Down), 42' LWL. Her displacement is 14,500lbs and her empty trailer weight is 12,000lbs. She has a box keel containing 2,500lbs of lead,
an additional 500lbs of internal ballast, and carries an incredible 250 gallons of water in integral central tanks for an additional 2,110lbs ballast. Her lead-filled steel centerboard weighs 1,350lbs, and is raised by the same 12v winch as that used for raising the masts. The winch is mounted on the foremast tabernacle, and uses dedicated batteries charged by their own solar-charger. Fuel capacity is 70 gallons, providing over 100 hours of motor time, for a range of over 850 miles.

Sail Area is 753 sq ft in three self-tending sails (gaff schooner). She has balanced single halyards for ease raising sail. Her masts are tabernacled using an electric winch and permanently installed A-frame, which doubles as a bow pulpit. Her bridge clearance is 35'; With masts down her bridge clearance is less than 10 feet. She is powered by an Isuzu 3LD2 3-cylinder diesel, which powers her to a maximum speed of 8 knots, consuming only .75 gallons per hour. At 7 knots, fuel consumption drops to .6 gallons per hour. This makes her more fuel efficient than most large pickup trucks! IBIS has a stern boomkin not shown on the drawings below. The boomkin supports the main traveler, boom gallows, flag-staff and GPS antenna.

IBIS is based on the Washington State halibut fishermen of the San Juan Islands in the 1880's. These were double-ended sharpies intended for use in all seasons. Construction is composite wood/epoxy/fabric, with hollow Douglas fir laminated masts and main boom (bird's-mouth method). There are five water-tight bulkheads making this vessel as unsinkable as possible. She can be sailed or motored to safety with any compartment flooded.

IBIS sleeps four in private cabins (foc's'le & master double berth). There is a head (SeaLand Traveler) and hot-water shower in the forward (night) cabin. There are large hanging lockers and storage areas.


The Aft Cabin contains a large galley with hot & cold running water,
large top-loading 12v Isotherm refrigerator/freezer,
dinette with fold-up table, Ipod music system, DVD movie-center with flat-screen TV and several cabinets and racks. There are numerous large storage compartments. With the small cargo hold amidships, IBIS can carry many months of food supplies for four people.

Electronics include VHF radio, depth sounder and hard-wired Furuno GPS with remote antenna. The GPS is installed in the aft-facing cabin trunk, and is visible from the helm.
There is a Raymarine ST400+ autopilot with tiller piston. There is a 4-amp solar panel mounted on the hatch turtle, a 3-amp moveable solar panel, and a 1-amp panel dedicated for the winch batteries forward. There is an ipod stereo and a flat-screen movie center.

IBIS's tender is a 14' Swedish Periagua with 3 air-tight floatation seats and small covered forepeak. The tender is carried in side davits, schooner style, and can be launched and retrieved under way. It can carry four adults plus groceries with ease, and rows very fast and easily. A very small (3hp max) outboard may be used if desired. It comes with 7' ash oars.

| | | | | |
| --- | --- | --- | --- | --- |
| The tent, frame, & plywood | Stern Joint | Bottom Planking--first layer (of two) | The Hollow Box Keel, bow part (Gripe) | The Box Keel, stern part (Skeg) |
| | | | | |
| --- | --- | --- | --- | --- |
| The Stern, planked, & finished Keel | Turning the Hull--Bill Smith at right | Right-side-up--back in the tent | Lazarette & Cockpit framing | The Galley in frame (Aft Cabin) |

Fabric/epoxy covering the Deck


The Bulwarks under construction


May '08

, IBIS

covered for the hot Florida summer


Dec '09--all exterior paintwork completed


Cabinet work & varnished hardwood Trim

Lewmar Ports & Skylights installed


Book Shelves, Master Cabin


The Rudder under construction

The Bird's Mouth Mainmast glued up


Gaff Jaws being fit

Rubrails being dry-fitted


The stainless steel A-Frame for raising Masts


The Prop Shaft--Stuffing Box & Coupling


The ballasted steel Centerboard under construction, showing the 10ga side plates welded to the pipe nose stringer. Internal web-frames holed for pouring resin on lead


500 lbs of lead installed in the Centerboard before welding the sides together


Welding the vertical upper struts for the portion of the Centerboard that stays in the Trunk; the lower blade is a NACA 009 high-aspect-ratio foil which becomes a Fin Keel when lowered


The welded Centerboard ready for finishing


Deck Hardware installed midship (ABI)


Deck Hardware aft, including bronze brackets for stowing the Stern Kedge. The ash Tiller is from a naturally-curved grown timber cut from my own trees in Maine


IBIS in early March of 2009. The ISUZU diesel Engine is nearly ready to be installed at left; Centerboard in the foreground



The Aft Cabin



The Galley (there is now a new cherry spice rack!)


Binnacle & Compass; Throtle/Shift to right


IBIS at anchor in the Bahamas


IBIS Sailing on the Bahama Banks, winter, 2010. Note the 14' Periagua in the side davits, which is included with the purchase of IBIS.


14-foot Periagua in the side davits


Helm Seat


Sails Aloft!


IBIS's new dodger, installed in early 2011; Two new solar panels have been added


The windshield, side panels and connecting panel (to the Bimini top) are all removable
using heavy-duty zippers to promote maximum comfort




IBIS Sailing in the Florida Keys with her new owner in early 2014

* * * * *
Sea Bright 14
JERSEY GIRL
, by Reuel Parker, for
sale for $7,500 (new 2014 price)
The new Sea Bright 14 is a modern version of the venerable 19th-century Sea Bright surf boats from the northern New Jersey shore. This is a very serious rowing and sailing vessel that is seaworthy--an ideal camp cruiser. She has six watertight compartments, three of which are accessable for dry storage, making her virtually unsinkable.
JERSEY GIRL
comes with 8' ash oars and 4 oz Dacron sails. Spars are varnished Douglas fir. The boat is partially decked over, with an anchor well forward and large storage bin under the fore deck. She is built with Arauco plywood (from Chile), covered with Xynole-polyester cloth and epoxy. Paint is Dupont Imron linear polyurethane--the best! Included is a galvanized trailer with 14" wheels.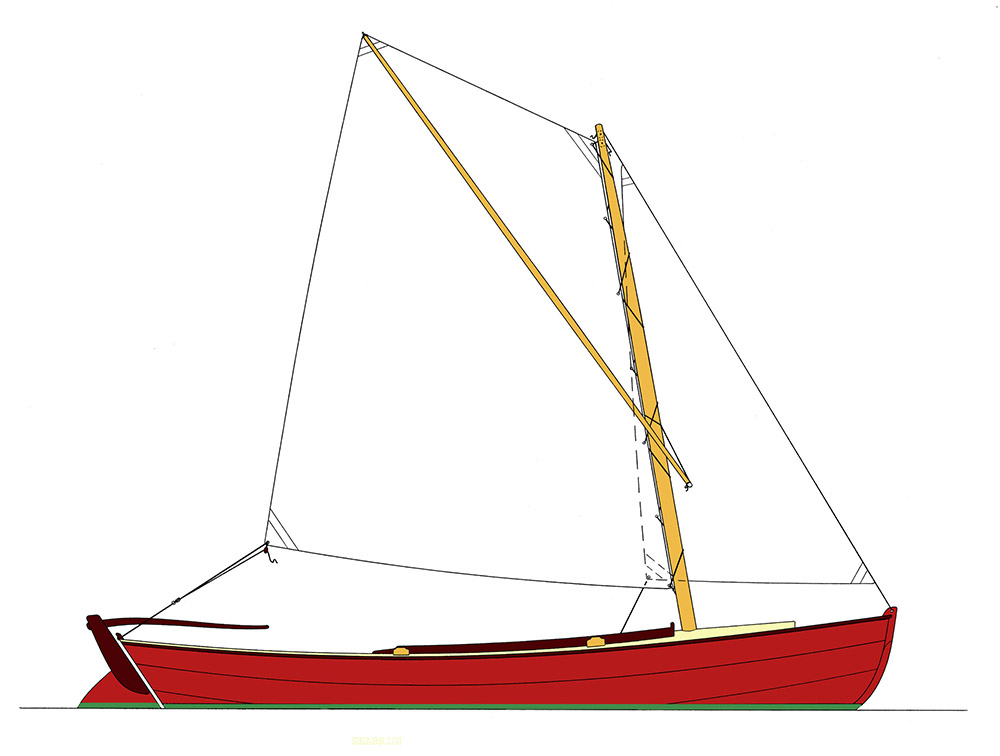 2010 RESTORED ANTIQUE FOLBOT, BY REUEL PARKER. FOR SALE FOR $2,500 (new price)

This is a 1950's two person expedition Kayak with a 500 lb carrying capacity. The restoration was done using Okume African mahogany marine plywood and epoxy. Seams are glass taped.


The Restored Folbot on Senebec Pond, Maine, in October 2010.



The unrestored frame The hull planked with Okume marine plywood



Right-side up, epoxy sealed, deck framing in place Interior painted with epoxy



The finished 3mm Okume deck and cockpit coamings The completed restoration, showing "Crazy Creek" kayak seats and restored original aluminum hardware



The kick-up rudder The "Crazy Creek" seats fold down to provide access to the lazarette. The seats can be removed for sitting around the campfire.


The Folbot on my VW Golf--it weighs about 85lbs, but is longer than the car!

Reuel Parker paddling with his neighbors Claire and Cabot Adams. The custom Parker Marine right-hand-rotation paddles come with the boat.

The Pilot Schooner 60 LEOPARD was sold in early 2014. If this is your dream boat, our builders can create a new one for you.
There is more information, photos and drawings of LEOPARD throughout our website. She appears on the PLAN PAGE, the GALLERY PAGE, the INTERIORS PAGE and the CONSTRUCTION PAGE, where you can view sequential photos of her being built. You can see her specifications by following the links from the PLAN PAGE.
LEOPARD is an ultimate world cruising sailboat for real sailing people. With a draft of only four feet, she can go where other cruising boats cannot imagine going. But with her huge foil-shaped centerboard down, she draws 9' 6", and with her overlapping lug fors'l, can beat to weather rapidly and efficiently, pointing high. LEOPARD is a very fast sailer, consistently exceeding her hull speed and cruising at 11 and 12 knots. She has won numerous races, including the 1994 Great Chesapeake Bay Schooner Race. She sleeps ten people. She can carry provisions for long cruises and ocean passages. Parker Marine has computed Weight Spread Sheets and Full Hydrostatic Studies for LEOPARD, available with Plans purchase. She is self-righting from full knockdown (masts in the water), and is a very stiff sailer. The Pilot Schooner 60 may also be built as a charter boat, and there is a full-keel option included with plans.
LEOPARD was remodeled in early 1999 by Reuel Parker and Bill Smith to her new owner's requirements. She now has an owner's sleeping cabin where the office was, and the office is now aft in the old captains cabin (quarter berth, stbd side). The port-side cargo bay was remodeled as a double cabin with head, and an additional fuel tank was added in the stbd-side bay.
Please email me for more information about the Pilot Schooner 60. This is a unique opportunity to own one of the world's extraordinary historic replicas of an early 19th century Virginia Pilot Schooner. LEOPARD can be USCG certified as a 49-passenger charter boat.
LEOPARD is listed in the Registry of Tall Ships.
LEOPARD anchored off Norman's Cay, Exumas, in five feet of water