Dear Friends and Clients: We are open for business and apologize for any delays in shipping. Please note that sending books out of the US now costs over $40USD using flat rate envelopes (cheapest way). Consequently we must raise our "overseas shipping" rate for Books, Catalogues and Plans. In many instances we can send Plans and Study Plans as PDF file attachments to emails. We can also attach Word Files for Articles, Construction Notes, and other written documents.
I am sad to announce that my best friend and boatbuilding partner of 38 years, Bill Smith, died this Spring. Bill had a brilliant mind which he could apply to anything, including building beautiful violins late in life. Together we built a dozen big cruising sailboats, and Bill built numerous boats on his own, several to my designs. He had a generous spirit, and would help anyone who asked him. Bill was also a very talented musician, and played in numerous bands. My world will never be the same without him.
PARKER MARINE ENTERPRISES sells Construction Manuals, Catalogues, Study Plans and Full Stock Plans. We do custom design work for construction in cold-molded wood, plywood, traditional wood, fiberglass, aluminum, ferrocement and steel. We do on-site or remote consultant work for new construction and major restorations. We do limited new construction and wooden boat restoration, as well as build components such as custom masts, hulls, Parker Flatiron Keels, foil-shaped centerboards and rudders. We have added a new category to our website (CONSTRUCTION) so that you can study sequential photographs of the methods used to build our different designs. To contact us, please write or email the addresses below.
PARKER MARINE ENTERPRISES PO BOX 220, BROOKLIN, MAINE 04616
info@parker-marine.com
Please allow 7 to 10 days for us to fill orders!
Reuel Parker's seventh cruising home is in the Bahamas with her new owner. She has a draft of 3′ board up and 7′ 6″ board down.
An ideal island cruiser that is also capable of long ocean passages.
The 1994 Pilot Schooner 60 LEOPARD making 12 knots on the Bahama Banks.
The Cold-Molded Cat Schooner TERESA at Paradise Island, Bahamas in 1986 with her tender, the Dory 12 GANDY DANCER
PARKER MARINE ENTERPRISES
PO Box 220, Brooklin, ME, 04616
email: info@parker-marine.com

Parker Marine has Photo Albums, Construction Booklets and Articles for sale either on CD or hard-copy (paper). The Photo Albums consist of high-resolution jpeg images which can be watched on your computer as slide shows. The Construction Booklets are Comprehensive step-by-step instruction manuals for building individual boats, restoring boats, and related projects like building hollow "bird's mouth" masts. The Articles are original copies of Reuel Parker's magazine articles before publication and editing (or unpublished), and include diverse subjects like cruising, designing, boatbuilding, restoration and rigging. Please see our BOOKS PAGE or ARTICLES PAGE for available titles. We will add more as we can make them available.
Reuel Parker's third book, THE VOYAGES OF FISHERS HORNPIPE, is available for $35 including domestic shipping. The book is about building Capt. Parker's first cruising sailboat on a California beach in the mid-1970's, and sailing her 35,000 miles on three oceans to twenty foreign countries. There is lots of information on building, planning, provisioning, finding crew (and seeking love), navigation, learning the ropes of international travel, coping with storms at sea, and many anecdotes and revelations about life under sail. Two-hundred-sixty-two pages, with hundreds of charts and color photographs. THE VOYAGES is a frank, pragmatic exposition of life on the water–if nothing else, it will give the reader a splendid arm-chair cruise, from the communes of California in the 70's, through the Panama Canal to rarely-visited destinations like Columbia, Haiti and Grenada while it was a socialist nation, to coping with a family in New York which could never endorse the cruising life. Please see our BOOKS PAGE.

Plans for MAXI-TRALERABLE sailboats and powerboats are now available (See Prices Page–Sharpies/Powerboats). You can see IBIS, the first prototype Sharpie-45 under construction at Parker Marine Enterprises in our CONSTRUCTION PAGE. We sailed IBIS through the Bahamas four times, and she is Gulf Stream proven. You can watch a drone movie of IBIS sailing in Elizabeth Harbor on You Tube: type in "schooneribis" to see!

I have developed a new series of SEA BRIGHT SKIFFS and GARVEYS based on the working craft of the New Jersey Shore. More new designs are in the works, including two new books. Because so many people have shown interest in it, I have designed a new interior for the SCOW 33 design, and upgraded the Plans and Construction Notes. I have also started designing and building box masts using solid constant-radius Douglas fir corners with marine plywood sides, front and back (see WoodenBoat Magazine).
PARKER MARINE ENTERPRISES would like to thank you all for your continuing support in this time of economic uncertainty and the Covid 19 Pandemic. The world will always need boats, and we will continue to design, build, restore… and sail them!

In our ARTICLES PAGE we now include a PHOTO ALBUM CD of the 2016 FAMILY ISLAND REGATTA–the world's greatest sailboat races–Bahamian sloops, in Elizabeth Harbor, Great Exuma. The CD contains 138 action photos of the sloops during four days of racing. Only $25! Samples Below.
My newest powerboat design, for Erik DeBoer in Key West Florida, was built at the Hylan and Brown yard in Brooklin, Maine. She is a Coastal Commuter 43. Powered by twin 200 hp outboards, SCOUT is fast, comfortable and seaworthy.
The new Coastal Commuter 43 SCOUT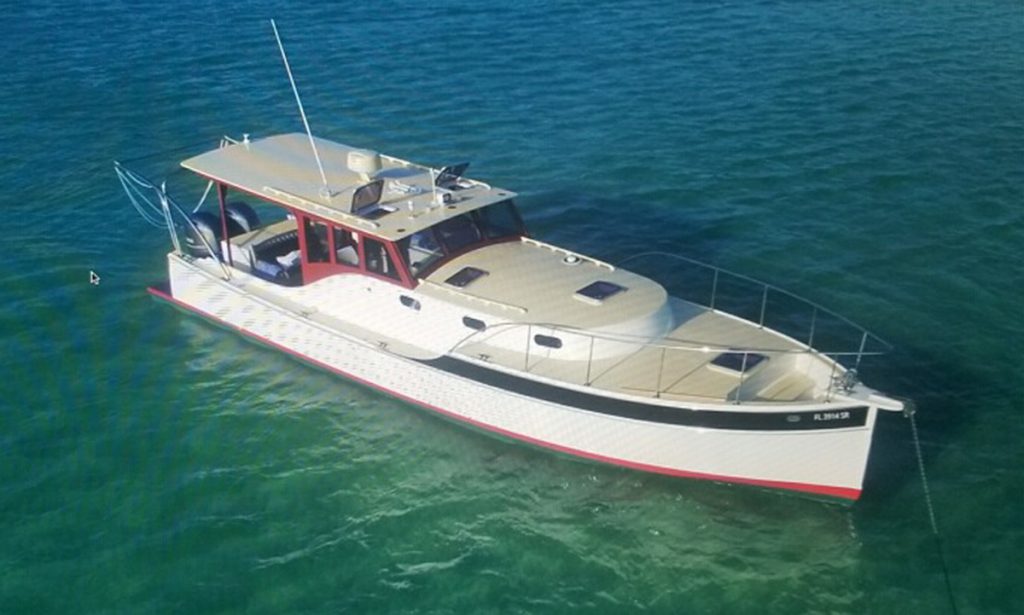 SCOUT in the Florida Keys
* * * * *
New Design–PILOT CUTTER 31 based on our proven Swansea Pilot Boat
FULL PLANS $750. Bulkhead Patterns for lapstrake construction $300 additional
This hull may also be built using strip-plank (cup & cove) method
An ultralight lapstrake Sea Bright 13 (see WoodenBoat Magazine)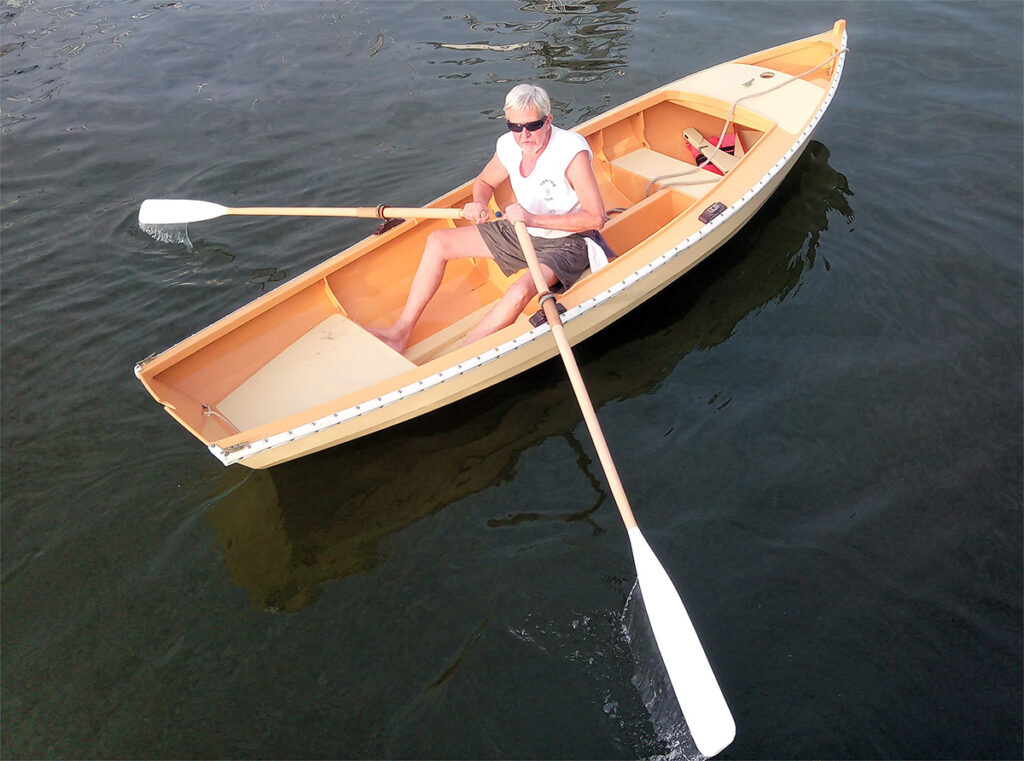 A new Garvey 11 Dive Tender nearing completion in my Brooklin shop
The new Commuter 325 –Plans available by special order