This page is for new designs, Product information, and Ideas that I want to share. I will also post pictures about the cruising life, and why I live it. ……….
IN 2022 I BEGAN CONSTRUCTION ON MY NEWLY DESIGNED COMMUTER 325. THE DESIGN IS BASED ON MY NEWEST COMMUTER EVOLUTION, INCLUDING SCOUT, THE NEW COASTAL COMMUTER 43, BUILT BY HYLAN AND BROWN IN MY HOME TOWN OF BROOKLIN, MAINE. THE NEW BOAT IS POWERED BY A YAMAHA F90, AND CRUISES AT 14 KNOTS CONSUMING 4 GALLONS PER HOUR. I LAUNCHED PANTHER IN FLORIDA IN EARLY 2023, AND SHE IS NOW MY CRUISING HOME.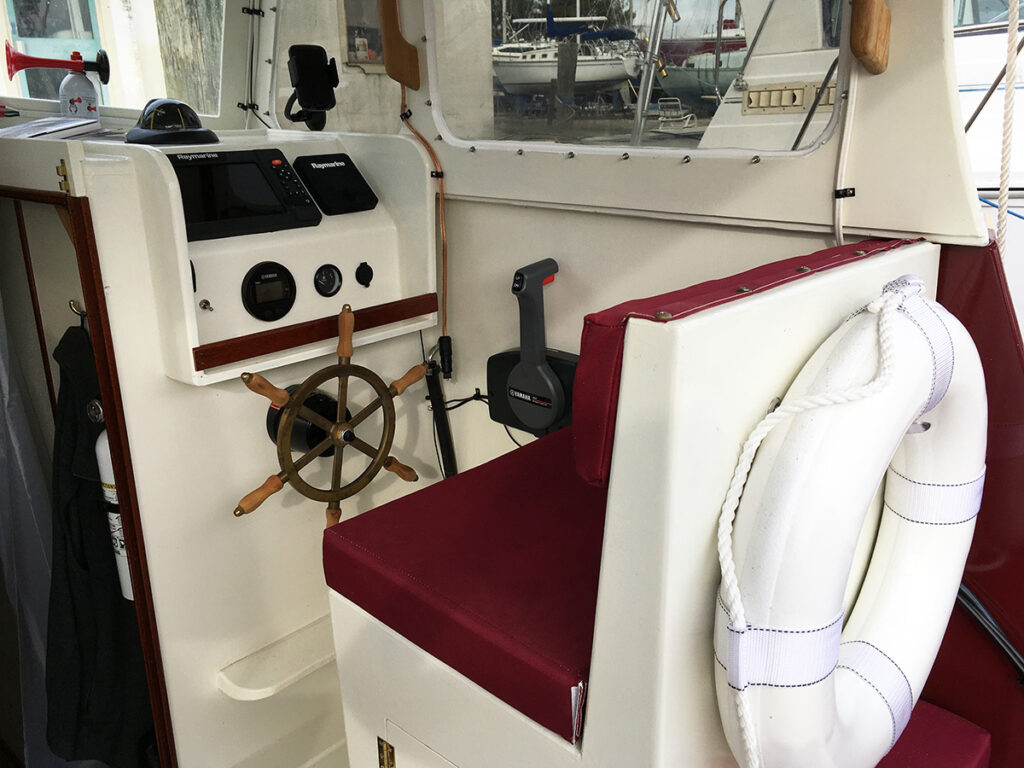 In 1998 I designed a 28-foot pilot schooner based on the Swansea pilots of the early to mid 19th-century. Parker Marine built three in Key West, which have been very successful pocket cruisers as their owners were professional sailors who sailed them in the Caribbean, Atlantic and British Isles. Since then more have been built. In 2021 I decided to design a Pilot Cutter, based on the same hull design, with a cabin trunk and standing headroom. The new design may be built in cold-molded lapstrake using 3/4″ marine plywood planks, or in strip plank, easier for first-time builders. She has a compact, minimalist interior that will be eminently practical and comfortable for a single-hander or couple. She can have a small inboard diesel, or a long-shaft outboard on her transom.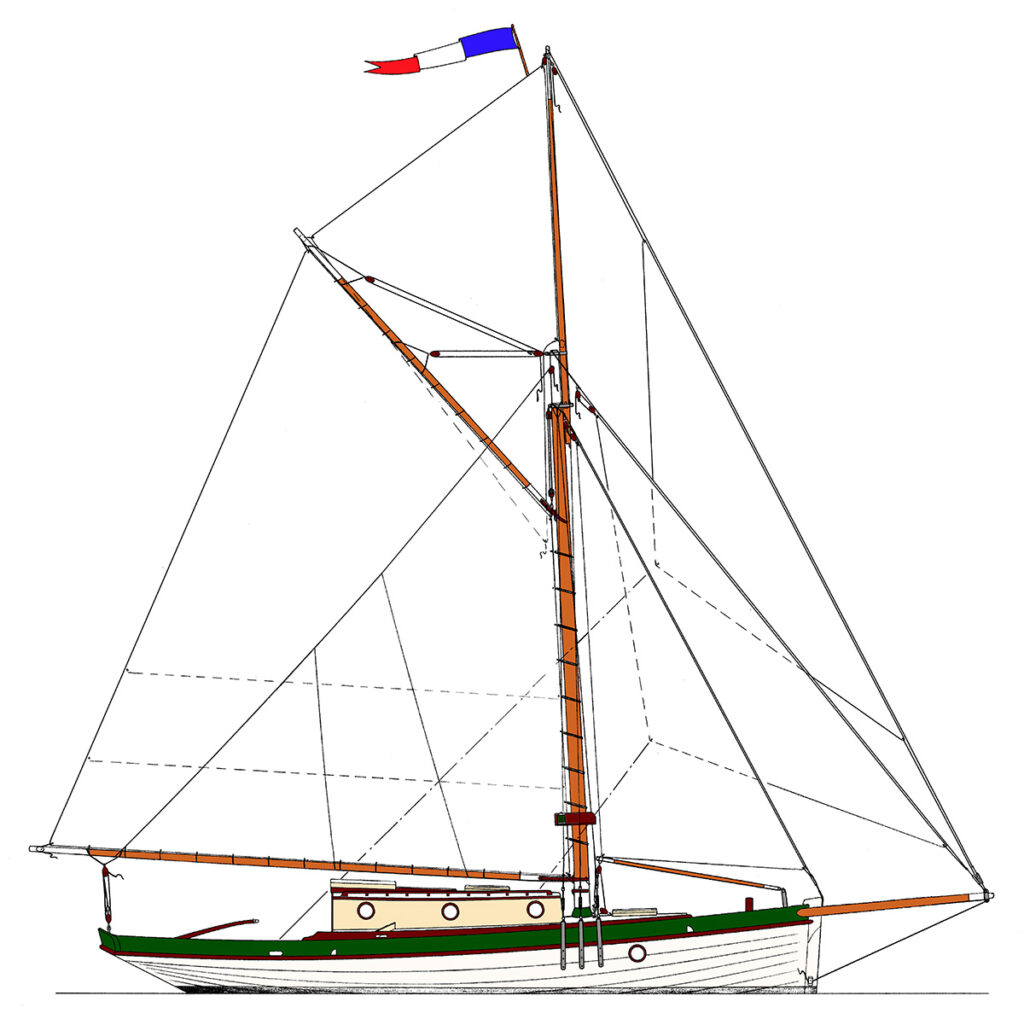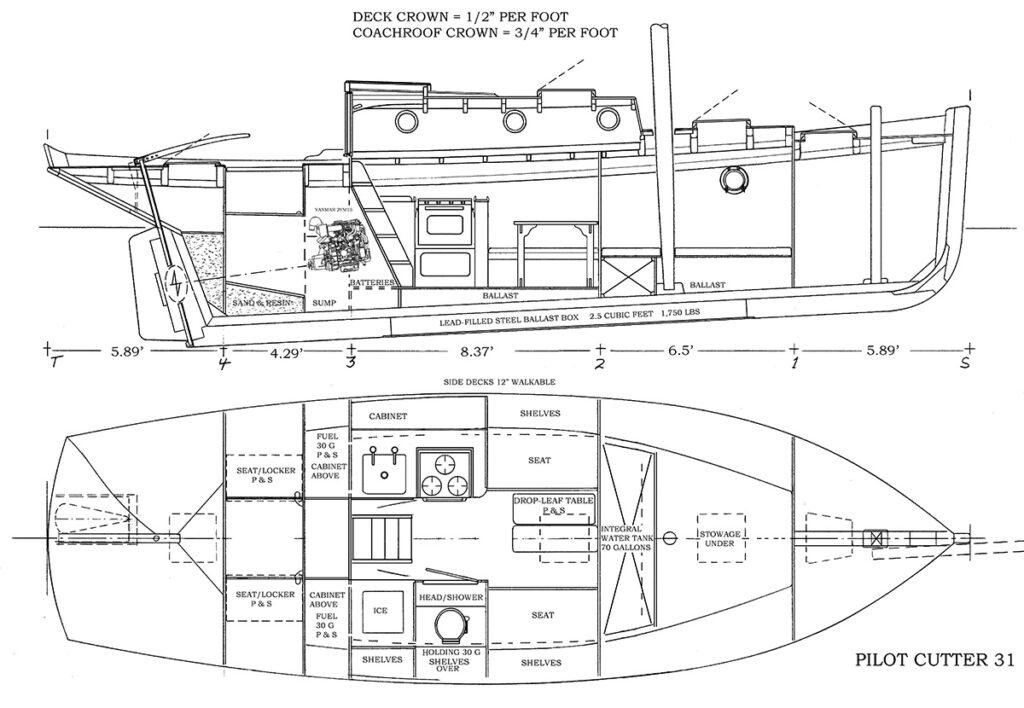 Because Mini-Trawlers have become popular, and because "Low-Displacement/Length" hullforms are vastly more efficient than either planing hulls or displacement hulls, I designed a modest cruiser that will be very fuel efficient, yet still be a comfortable live-aboard cruiser.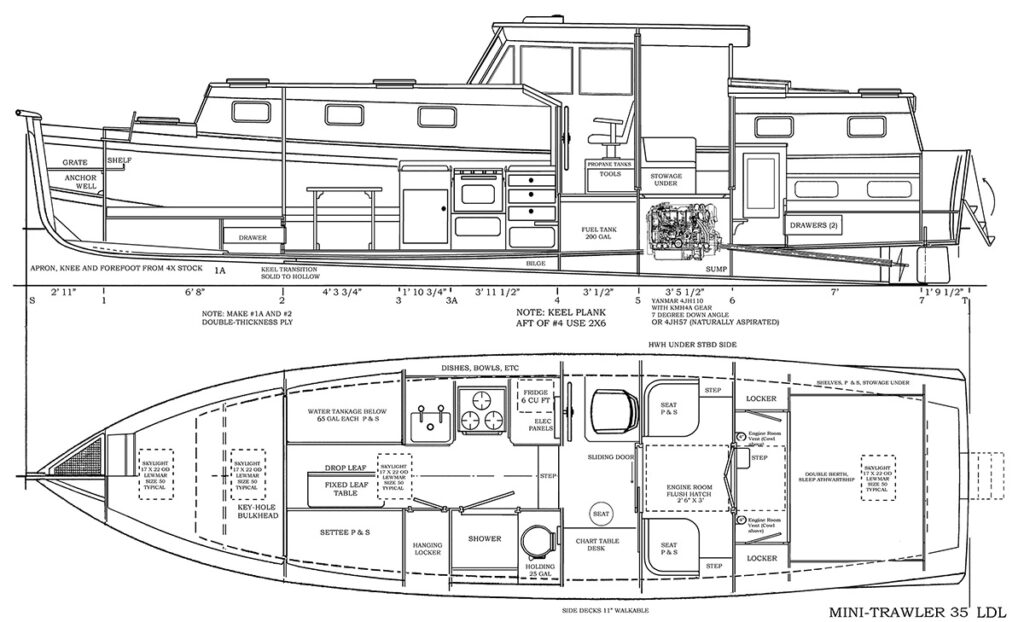 I RECENTLY DESIGNED A BAHAMAS CRUISER WITH A FULL KEEL THAT IS SHOAL ENOUGH FOR NAVIGATING THE EXTENSIVE THIN WATER OF THE ISLANDS. MANY PEOPLE ARE WARY OF CENTERBOARDS AND ARE NOT CONFIDENT USING THEM. THE ABACO SLOOP 33 CAN BE BUILT IN COLD-MOLDED LAPSTRAKE OR STRIP PLANK. SHE HAS STANDING HEADROOM, AND IS A PERFECT SMALL ISLAND CRUISER FOR A YOUNG FAMILY, A COUPLE OF ANY AGE, OR A SINGLE-HANDER. THE PILOT CUTTER 31 AND THE ABACO SLOOP 33 SHARE THE SAME STRUCTURAL BULKHEADS, AND HAVE IDENTICAL INTERIORS.