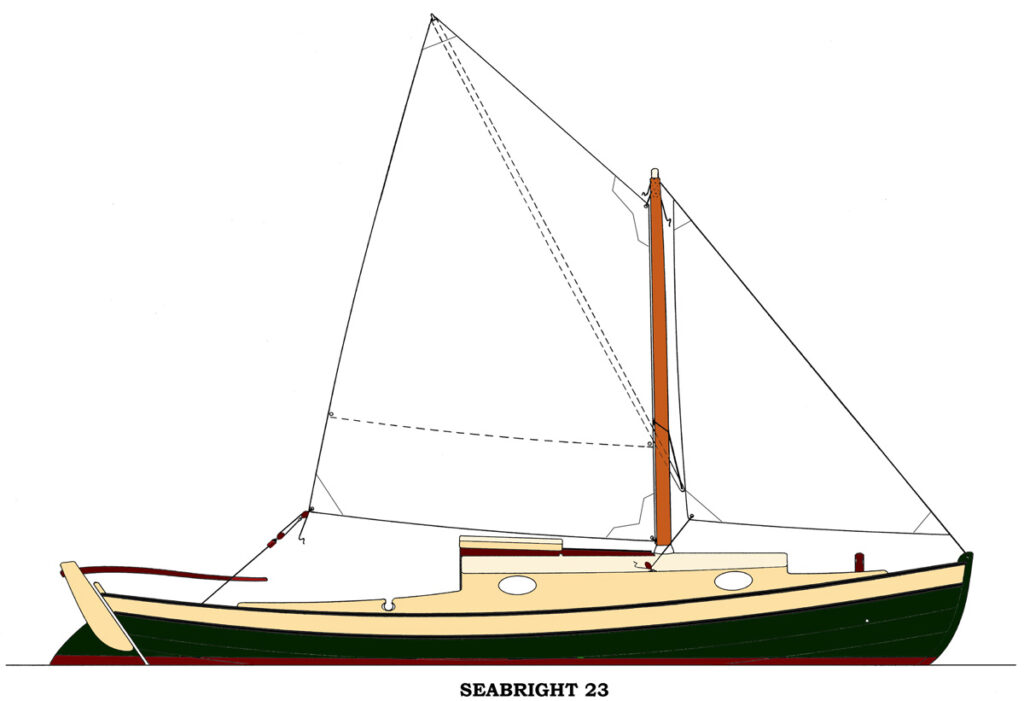 LENGTH BETWEEN PERPS 22' 10 ½"
LWL 20' 4"
BEAM 7'
DRAFT 10"/3'
WEIGHT 1,500 lbs Approx.
BALLAST 500 lbs (approx) lead & water
RIG Sprit-rigged sloop
TYPE New Jersey Beach Skiff. Suitable for sailing and rowing in coastal conditions. This model is designed with watertight compartments and V-berth platform forward for use as a camp skiff and microcruiser. The type has an excellent record as a lifesaving vessel (open boat), and can be used as an island-hopper and coastal cruiser. She would also make an excellent lifeboat for a very large cruiser. Trailerable.
CONSTRUCTION Marine plywood covered with epoxy-saturated Xynole-polyester fabric. The hull is frameless, being built over bulkheads. Options for planking include lapstrake, chine log and stitch-and-glue (Plans are drawn for stitch-and-glue). Skill-level required for construction is moderate to high.
OPTIONS Plans are for Microcruiser configuration with raised-deck cabin. Accommodations are for two. I would add a heavy-duty rowlock gudgeon to the transom (6" away from the rudder) and use a 10' sweep oar for sculling. In a flat calm you will easily sustain 3 knots. The vessel can also be built as an open boat, with two or three rowing stations. While this hull will be initially tender (keep your spars and sails light), she will be extraordinarily fast, weatherly and easily driven. I see no need for a motor of any kind. If you must have a motor, I recommend an electric trolling motor powered by two banks (4 total) of 12V golf-cart deep-cycle batteries. If you will be keeping your boat on a mooring, buy a 75-watt solar panel and mount it on the aft deck above the lazarette. A bucket or small 'portapottie' can be stowed under the bridge deck beside the aft end of the centerboard trunk. Bulkheads should be made watertight: Use gasketed access doors to the lower forepeak compartment, space under sleeping platform and lazarette—doing so will make this boat unsinkable. If permanent ballast is desired, use lead foil glued to the hull on both sides of the CB trunk covered with ¼" teak & holly plywood.