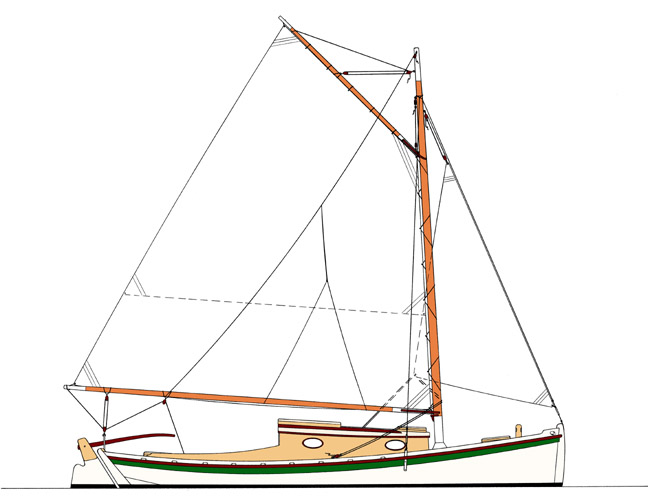 L.O.A.- 24' 2"
L.W.L.- 22' 8"
Beam- 7' 9"
Draft- 2' ½"/3' 9"
Sail Area- 263 sq ft
Weight- 2,500# (approx)
Proportionately, this is the largest sharpie type known, and shows the maximum beam ratio successfully used in the sharpie type. Hence, this is a 'big little boat,' and will make an excellent, safe and comfortable pocket cruiser. She has a different character than the other craft, being a gaff-rigged sloop, and her large skeg gives her a deeper draft than even the largest 'true' sharpies.
While this model is not as fast or weatherly in comparison to some of the more extreme types, she is easier and less critical to handle, making her an all-around excellent family cruiser.
Also known as the 'Hampton Flattie,' this type was very popular on the Bay through the last quarter of the 19th century, and varied in size from 16 to 30 feet in length, according to Kundhart, who wrote about the type in Forest and Stream and Small Yachts. Chapelle, in his research, found a hulk near Elliot on the Chesapeake in 1940-41, and made plans from it [Fig. 112 in American Small Sailing Craft]. These craft were used for oystering and crabbing until at least 1910, and lend themselves well as small yachts. The original working models had a small cuddy forward, which I simply expanded aft to create a pocket cruiser. They were called 'handscrapers' as they dredged oysters using small manual winches. I have explained the theories and development of the hull shape in Chapter One of The Sharpie Book and in previous notes.
This is an excellent first boat to build by someone who is ready for a mid-sized project and wants a pocket cruiser that is capable of coastal cruising and crossing to the Bahamas in settled weather. The flatties are excellent, balanced, good-performing boats on all points of sail. This one will be a comfort and a joy to behold.