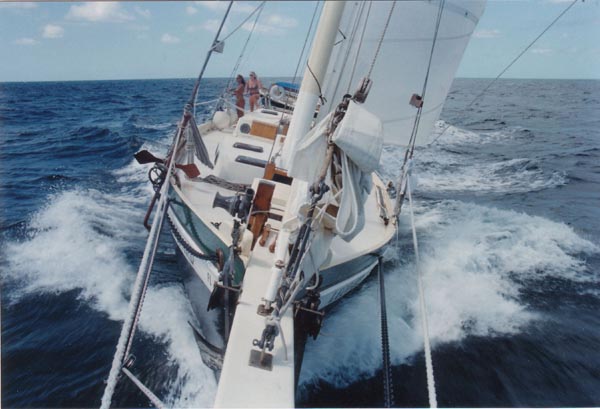 The Pilot Schooner 60 LEOPARD making 12 knots on the Bahama Banks

PO Box 651429, Vero Beach, FL 32965
email: info@parker-marine.com

Parker Marine has Photo Albums, Construction Booklets and Articles for sale either on CD or hard-copy (paper). The Photo Albums consist of high-resolution jpeg images which can be watched on your computer as slide shows. The Construction Booklets are Comprehensive step-by-step instruction manuals for building individual boats, restoring boats, and related projects like building hollow "bird's mouth" masts. The Articles are original copies of Reuel Parker's magazine articles before publication and editing (or un-published), and include diverse subjects like cruising, designing, boatbuilding, restoration and rigging. Please see our BOOKS PAGE for available titles. We will add more as we can make them available. The Sharpie Book is available again--please see out BOOKS PAGE.
Reuel Parker's third book, THE VOYAGES OF FISHERS HORNPIPE, is available for $35 including domestic shipping. The book, in the works for decades, is about building Capt. Parker's first cruising sailboat on a California beach in the mid-1970's, and sailing her 35,000 miles to twenty foreign countries. There is lots of information on building, planning, provisioning, finding crew (and seeking love), navigation, learning the ropes of international travel, coping with storms at sea, and many anecdotes and revelations about life under sail. Two-hundred-sixty-two pages, with hundreds of charts and color photographs. We had to publish this ourselves, as McGraw-Hill would not touch a book with pictures of naked sailors! THE VOYAGES is a frank, pragmatic exposition of life on the water--if nothing else, it will give the reader a splendid arm-chair cruise, from the communes of California in the 70's, through the Panama Canal to rarely-visited destinations like Columbia, Haiti and Grenada while it was a socialist nation, to coping with a family in New York which could never endorse the cruising life. Please see our BOOKS PAGE.

Parker Marine has developed a new line of MAXI-TRAILERABLE BOATS, for both sail and power. These vessels are 46' and under in length, 10' beam, shallow-draft, and weigh 15,000 lbs or less. The concept is to provide cruising boats that can be transported and stored on standard 40' 3-axle trailers, eliminating the need for slips and boatyards which are rapidly turning into condos all over the American waterfront. The boats can be towed by a tow truck without permits or escort vehicles, or can be towed privately with only a wide load banner. Plans for MAXI-TRALERABLE sailboats and powerboats are now available (See Prices Page--Sharpies/Powerboats). You can see IBIS, the first prototype Sharpie-45 under construction at Parker Marine Enterprises in our BROKERAGE PAGE. We sailed IBIS through the Bahamas four times, and she is Gulf Stream proven.

I have developed a new type of centerboard made of steel, aluminum or plywood, partially lead-ballasted, which is a foil-shaped high-aspect-ratio fin keel when down. The new centerboard is employed in our Australia 47 design. You can see photos of it under construction on our Brokerage Page. After the failure of IBIS's centerboard pennant in late 2015, I designed and built a modified version which functions both as a fin keel and conventional centerboard when partly deployed. I have also developed a new series of SEA BRIGHT SKIFFS and GARVEYS based on the working craft of the New Jersey Shore. More new designs are in the works, including a new book.
PARKER MARINE ENTERPRISES would like to thank you all for your continuing support in this time of economic uncertainty. The world will always need boats, and we will continue to design, build and restore them.

IBIS has been sold. Thank you to those who made inquiries about her. We had a great trip to the Bahamas (IBIS's forth) in March & April of 2016, where her new owners joined us for a week of fantastic sailing, swimming, diving and hiking. We stayed for the FAMILY ISLAND REGATTA--the world's best sailboat race! In May we delivered IBIS to her new owners in North Carolina.
You can watch an ariel movie of IBIS sailing in Elizabeth Harbor on You Tube: type in schooneribis to see!