By Reuel B. Parker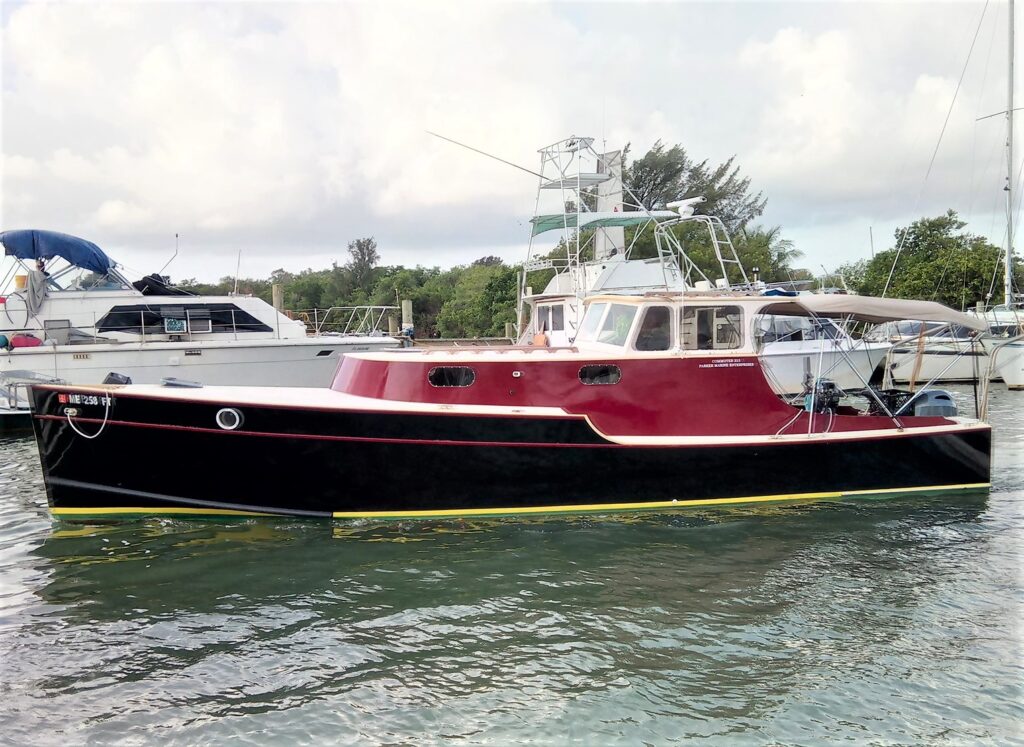 The Commuter 325 PANTHER
Determined to downsize and hopefully simplify living on a boat, I decided to adapt one of my Commuter powerboats for my own use. I had to sell my 57-foot motorsailer PEREGRINE because I went broke completing her build. She was meant to be my 'final solution' – my retirement home. But she is a big boat, and in my 70s I found that she was more than I needed. Also, finding crew had become more and more difficult, particularly in the time of Covid 19 and its aftermath. After a year of trying, I finally sold her at a grave loss, but at least I sold her to the right man for her.
In early 2022, I modified my Commuter 32 design for my personal needs. I lengthened her six inches, increased her beam and draft slightly, modified her galley, cockpit and helm, and added a modest pilothouse. I deepened her forefoot, adding more V to the bow sections, and added bilge keels (which had previously only been optional).
I began construction that same winter, completing the basic structure in my shop in Fort Pierce, Florida. I had a custom trailer built, and when the Florida weather became unbearable, I towed the boat to my shop in Brooklin, Maine. There I installed her outboard, completed basic systems (electricity, batteries, refrigeration, plumbing, electronics, solar array, fixtures, through-hull fittings, ground tackle, etc). I made and upholstered cushions and mattresses, installed all windows, portlights and hatches, and finished all tanks. I primed and painted the hull, decks and house. I installed deck hardware, stern davits and rubrails. I painted her interior and started on her mahogany trim.
Because PANTHER (as I named her) was now heavier, I hired professional truckers to tow her back to my Florida shop for completion. When I got there myself, I finished her interior, including many details which I hadn't completed in Maine before it became too cold to continue working there.
On December 21, 2022, I launched PANTHER at Riverside Marina, and moved her to a slip. I had never owned an outboard-powered boat anywhere near this size, and I admit there is definitely a learning curve to be mastered regarding maneuvering in tight spaces. Fortunately, I made it into my slip without any damage, but I was definitely shitting bricks!
PANTHER being launched at Riverside Marina – the author at right
On the 28th I took her on her first sea trial, beginning the process of perfecting running gear and finding the right propeller. I ultimately added spray rails forward (she already had rails aft), electric trim tabs, an aftermarket cavitation plate, and a transom wedge.
Around this time, I took her on a real cruise – the circumnavigation of South Florida. I ran the Intracoastal Waterway down to Miami, greatly enjoying not having to stop and wait for bridges (there are over twenty-five of them!). I anchored in Lake Wyman (near Jupiter) that first night, and in Key Largo off Pumpkin Key the second night.
Miami from the water
On the third night I anchored behind Lower Matacumbe Key, off the Lorelei bar and restaurant, which had been a popular hangout for me when I lived on nearby Windley Cay in the mid-1980s. Because of notoriously poor holding, I dragged anchor all night, having to re-anchor in the dark, and then awakening before dawn to find myself in an altogether different place! I have always had great luck with Lewmar Delta Plow anchors, but the Danforth might have worked better in that situation. I was also carrying a large grapple, because Bahamian fishermen use them to anchor on slick sandstone.
The Lorelei, on Lower Matacumbe Key
I worked my way down through the Florida Keys, staying north of the islands until nearing Key West – then running south (outside) in the Hawk Channel, after Bahia Honda.
I took on fuel at Cudjoe Gardens Marina on Cudjoe Cay, which was tucked up a narrow, twisting channel I had trouble finding. Getting there, I crossed places where I had to tilt my motor up, and still churned my way through coral mud – very shallow!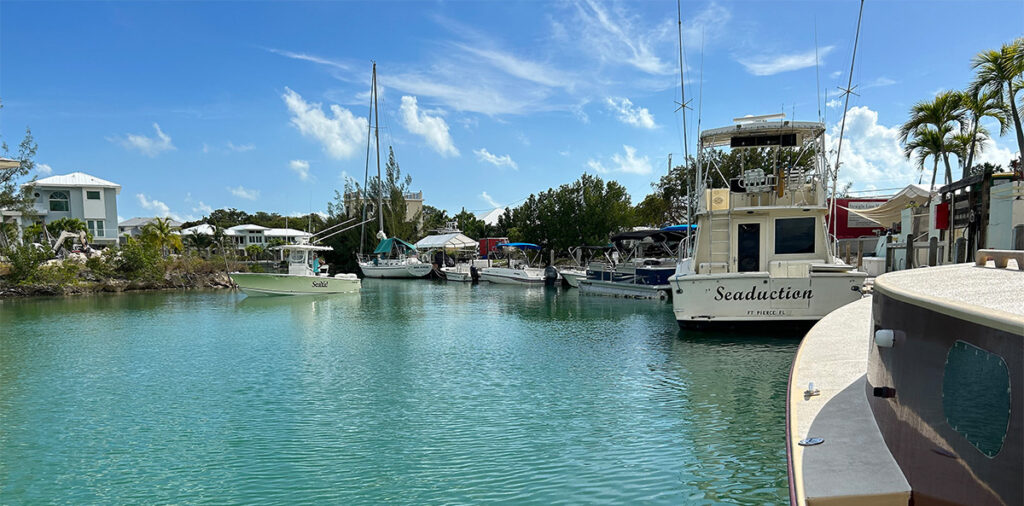 Cudjoe Gardens Marina, on Cudjoe Key
Later that day, after getting lost briefly, I arrived at Safe Harbor Marina on Stock Island (just east of Key West), where I used to live many years ago. I rafted to SOUTHWIND, which my late boatbuilding partner Bill Smith had worked on previously. She is owned by my close friend Wayne Fox, who runs three schooners I designed as charter boats for Danger Charters. Right next to SOUTHWIND's slip, my boatbuilding apprentice Chelsea Ragland was living with friends. We all had great visits – but after many fun days, I departed and anchored at Boca Chica Key, just north of a bridge for The Overseas Highway, which I was just able to squeak under. I had wanted to continue north, but felt that conditions (wind and seas) were a little too rough.
PANTHER, like many powerboats, 'searches' wildly at anchor, veering back and forth in strong wind and current, and jerking hard at her anchor. I tried rigging a bridle, which didn't help, and eventually ended up using two anchors set as far apart as possible to ameliorate the problem. I also found that paying out more scope — until all the chain was out and the nylon rode was on the bow roller — helped immensely to reduce the jerking.
I cruised up through Florida Bay, weaving among beautiful tiny keys through numerous shallow channels, to Cape Sable and the west coast of Florida. Later that day I reached the Everglades. I had never been to there before, and after seeing just a little of them, realized it would take much more time to really appreciate the wild beauty of the intricate bays, rivers, estuaries and channels. That first night, I anchored in First Bay, at the entrance to Lost Man's River.
Rare white pelicans, in The Everglades
The Everglades – Lost Man's River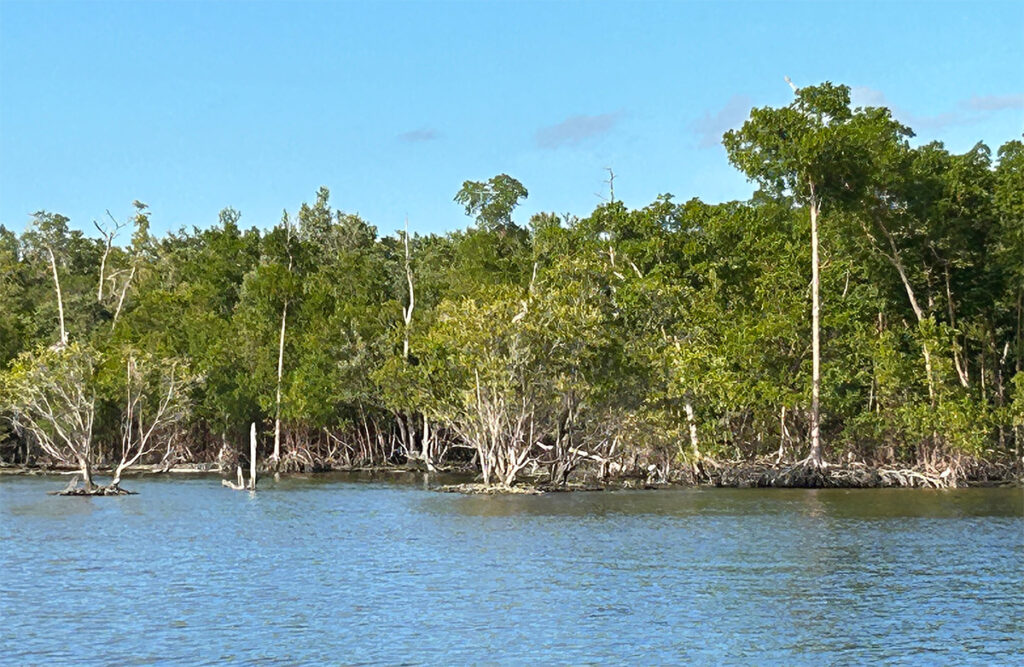 The Everglades – Lost Man's River
Continuing on my way north, I stopped at Hamilton Harbor for gas. I was continuously shocked by gas prices at South Florida fuel docks, which ran as high as $6.15/gallon. On Jan 31st I anchored in Iona Cove, near Fort Myers, and entered the Okeechobee Canal the next morning. Crossing Florida via Lake Okeechobee was an adventure, as I had to pass through three locks getting to it, each raising PANTHER progressively higher, to reach the lake, at 18 feet above sea level.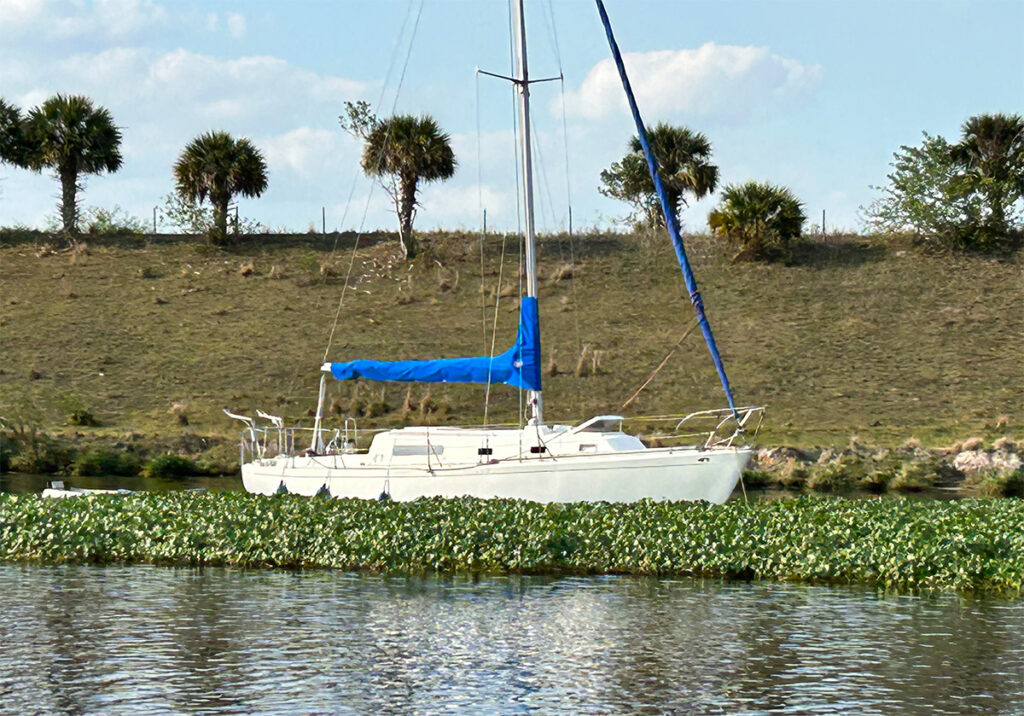 An anchored sailboat completely surrounded by huge lily pads in the Okeechobee Canal
I anchored the next night off Moore Haven, in the west edge of the Lake. I anchored and backed up to tie PANTHER's stern to a piling, off to the side of a very narrow channel surrounded by miles of freshwater plants growing in shallow mud. On the lake shore was a small boatyard by Alvin Ward Park.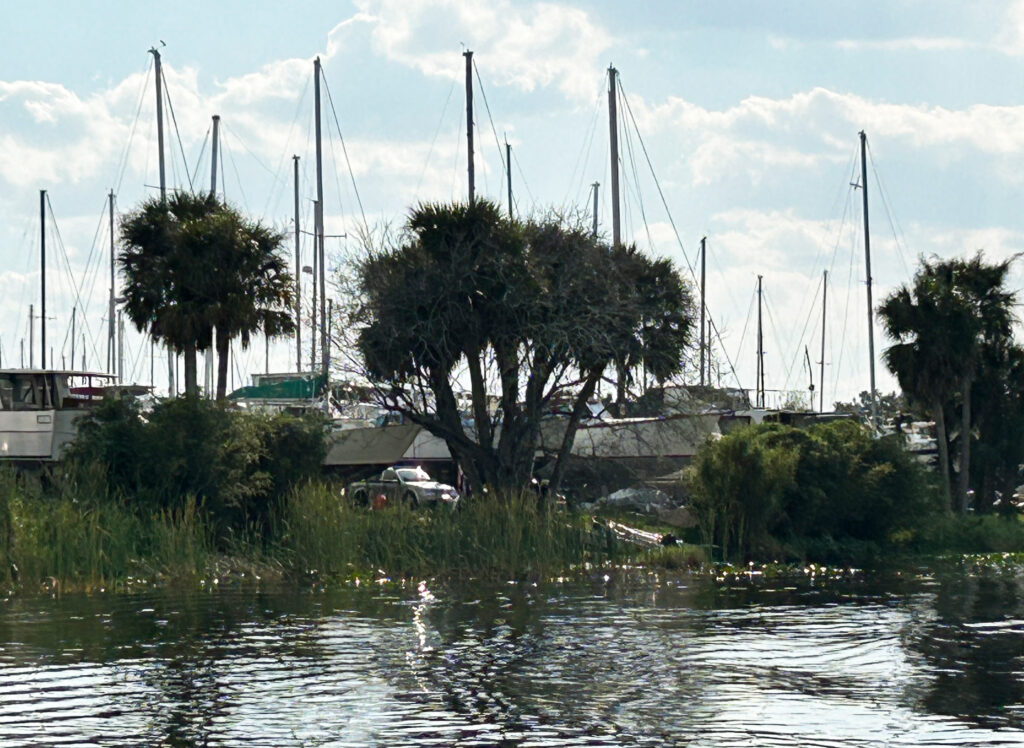 My anchorage on the west edge of Lake Okeechobee
I crossed Lake Okeechobee through miles of fresh water and lily pads to reach the canal opposite, descending to the Saint Lucie River. Lake Okeechobee is the third largest natural lake in the U.S, covering 448,000 acres (730 square miles), with an average depth of eight to nine feet. The Lake is 45 miles in diameter with 135 miles of shoreline. There are protected canals around parts of the Lake's perimeter, which I didn't use, as the weather was calm. In the middle of the lake, I was out of sight of land.
Starting across Lake Okeechobee
I rode down three more locks that day, having a couple of long waits for maintenance. At Port Macaya Lock they were cleaning manatee sensors, and the Indiantown Railroad Bridge was temporarily closed for repairs. I stopped for an hour at River Marina for a visit with my friend David Halladay (Boatsmith) in Stuart. That night I anchored in beautiful Peck Lake, a nature preserve, before returning to Riverside.
Engine running time for the trip was about 750 hours, for a cruise of over 700 miles. Total fuel consumed was about 180 gallons, at a cost of nearly $950. I was learning that cruising in a small outboard-powered cabin cruiser is an expensive mode of travel. Nevertheless, the journey was unique for me, with many new sights (as well as familiar ones), and some special visits with dear friends. It was a great adventure!
July 2, 2023 – Reuel B. Parker